Telemedicine Clinics
---
Liaquat National Hospital telemedicine Clinics connect you with your consultant from work, home or any other convenient location. Through your computer, smart phone or tablet, schedule an appointment and receive one-on-one, non-emergency care you need, when you need it.
To book an appointment through telephone please call 021-3441-3010. 021-3441-3011. 021-3441-3012.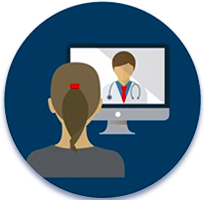 Benefits
Convenient
Schedule appointments and connect from your home, office or any other location .
Hassle Free
With supporting text below as a natural lead-in to additional content.
Familiar
Meet with your existing Consultants through technology.
Simple
All you need is a computer, tablet or smart phone with good internet speed.
Secure and Private
Standards based platform and technology.
Online Payment
Choose from various secure online payment options.
How it Works?