Sometimes despite attempts of exercise and dieting a lot of people find it hard to lose weight. Bariatric surgery helps in cutting down the extra fat by decreased oral intake and in some cases decreased absorption, paving way for weight loss.
At Liaquat National Hospital, Department of General Surgery has a specialty clinic on Bariatric and Metabolic Surgery to help you lose the weight. This specialty is associated with evaluation and management of patients with High Body Mass Index (BMI) as well as multiple comorbidities arising as a result of being overweight.
Health Benefits
Bariatric surgery can help you lose weight and improve your outlook. Studies have shown marked improvement in co-existing diseases as well as a better and healthier life style which may enable you to live life to the fullest. It has been proven that it also decreases the risks of weight-related health problems which may be potentially threatening to life, such as:
Heart disease and stroke
High blood pressure
Type 2 diabetes
Nonalcoholic fatty liver disease (NAFLD) or nonalcoholic steatohepatitis (NASH)
Sleep apnea
Who needs Bariatric Surgery
In general, bariatric surgery could be an option for you if your Body Mass Index (BMI) is:
More than 30 with preexisting diseases (hypertension, diabetes, sleep apnea)
More than 35 without preexisting diseases
Our team of experts will help you in choosing the right procedure based upon your BMI.
Time required to lose weight
With the right attitude and correct procedure you may loose up-to 60% of your excess body weight in almost 1-2 years' time. After procedure you will need to have an appropriate diet plan tailored to your needs along with exercise regime that may help you to a noticeable weight loss over a period of time.
A Multidisciplinary Approach
We offer a multidisciplinary approach to manage obesity. After liaising with relevant specialties, our comprehensive weight reduction plan offers surgery to patients meeting the requisite criteria. Bariatric and Metabolic Surgery Clinic at LNH is comprised of a team of doctors, staff, dietitians and physiotherapists to address many factors involved in the surgery. Qualified dietitian will aid in developing a diet plan and physiotherapist will maintain your exercise regime before and after procedure for a sustained weight loss.
Options of Procedures
Among the host of procedures that we offer, our team will choose a specific procedure after evaluation of your basic body composition. The procedures that we offer include: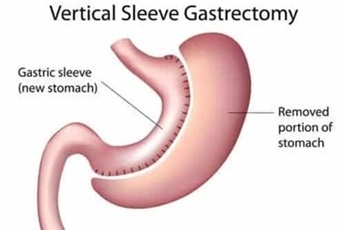 This is a laparoscopic procedure in which will be done through 4 to 5 small holes in your abdomen. Part of your stomach is removed resulting in a tube. This is a non-reversible procedure. This tube has capacity to withhold up to 150 ml. Sleeve procedure is reserved for lower BMI patients or as a first procedure in a series of procedures for higher BMI groups. After surgery there is early filling of stomach and removal of hormones which increase hunger, thereby resulting in a lesser appetite and early feeling of "being full".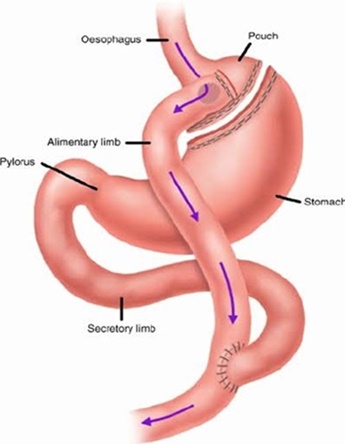 In this procedure, through 4 to 5 small holes your stomach is converted into a pouch. This pouch has a capacity of almost 200 ml and is connected to a part of small intestine. This causes less amount of food to be eaten and early feeling of being full. This procedure also causes a significant amount of food to be unavailable for digestion, thereby causing weight loss. This is an entirely reversible procedure, but diarrhea can occur as a side effect as well. This procedure is reserved for high BMI.
The procedures of sleeve with proximal jejunal bypass and duodenojejunal bypass are further modifications of sleeve gastrectomy. In cases where BMI is high, but patient is not a candidate for gastric bypass or having poor pancreatic function.
What to Expect after Bariatric Surgery
Time to Recovery
Based on the procedure that you are undergoing, you will be admitted after basic workup one day prior to surgery. After the procedure you will be asked to move about and start sips of water as soon as you are awake. Next day you will be kept on water and a dye test may be done to check the condition of your stomach and intestines. Subsequently, you will be discharged after passage of stool / flatus .You can join work within one week of surgery. As the procedures offered are done laparoscopically, you will experience minimum pain and discomfort.
Diet Following Surgery
You will be introduced to normal diet during the course of a few weeks. For the one week after surgery you will be kept on liquid diet, followed by semi solid, then soft and eventually normal diet after 6-8 weeks of surgery. However, the amount and method of eating will be demonstrated and explained by our dietitian based on your requirements.
Exercise
You will be required to start a training plan one month after surgery. It will initially consist of weight training and cardio sessions. This will eventually lead to more strength training and calisthenics as your weight decreases and you reach an appropriate fitness level. Our fitness trainers will be taking you through the phases and devise plans as per your requirement
Need of Plastic Surgery
After adequate weight loss you may experience loose skin. This may need to be corrected by doing body contouring surgery by our team of plastic surgeons. You may be offered this service after adequate and sustained weight loss.
Risks & Complications
Though the bariatric procedures offered are safe and all precautions are taken to make the experience as safe as possible, there is a less than five percent chance of developing a leak post procedure. Bleeding from stomach vessels, spleen may entail a conversion into open procedure. In long term, there is a risk of dietary deficiencies which may require lifelong multivitamins. Our team is committed to provide you with the best possible care in the safest possible manner.
Frequently Asked Questions
Bariatric surgery procedures have a variable amount of weight loss. However, a 70 - 80 percent excess weight loss is expected.
There will always be a need to stay motivated. Adequate motivation, lifestyle modification, adhering to diet plans and doing regular workout / exercise will be a part of your everyday life. This ensures long term sustenance of weight loss.
There is a less than 5 percent of risk of leak from staple site, injury to blood vessels. In long term there is a deficiency of vitamins which can be taken care of by vitamins in chewable form.
An approximate time limit is up to 1 to 1.5 years for maximum weight loss.
This is documented that there is up to 70 - 80 percent chance of remission of type 2 diabetes