Oncology Support Services
Breast Cancer patients need not only medical care, but also emotional and psychological support. They need someone who could listen to them and guide them, as their biggest worry is "fear of the unknown". The women who have gone through this journey are the best to alleviate this fear. Connecting with fellow cancer fighters and survivors could help them bravely face the challenge.
Keeping this in view, Oncology Support Services centre was established at Liaquat National Hospital, Karachi in 2014.
Services
The Oncology Support Services offer a complete array of services needed for cancer patients. Along with individuals sharing their experiences to form a support group for cancer patients, this facility offers services to meet the requirements of body changes a cancer patient goes through, especially after Chemotherapy and Surgery.
Chemotherapy is one of the important part of oncological treatments, which may bring its adverse effects. As one of the anticipated side effects, Chemotherapy causes loss of body hair, not only that of scalp but of the entire body. One needs to understand that hair loss is temporary and as chemotherapy stops hair do come back. The possible way out for this temporary hair loss can be camouflage with natural/artificial wigs, to carry scarves/hijab which can add to one's modest wear or hair extensions as per the requirement of hair style.
For hair fall from eyebrows, beautifying them with eye pencil and plastic-stencil cut eyebrow are good options.
For nails and skin, which become darker and brittle during chemotherapy treatment, skin and nail beautification treatment is provided. Women are taught about how they can take care of their needs which enable them to fight the disease with courage and confidence.
A cotton prosthesis is provided to women who undergo surgery with complete removal of breast and have a fear of losing their feminism. Cotton prosthesis enables a woman restore her feminine features immediately after a surgery. Later, a silicone external prosthesis can be used, which feels and weigh like a normal breast. This prosthesis is used in normal undergarments or specially designed Mastectomy Bras of one's regular size. These undergarments are also available at our Oncology Support Services Centre.
Patients are also guided for the Breast Reconstruction Surgery which is an option for females who would want to have their physical appearance back to normal.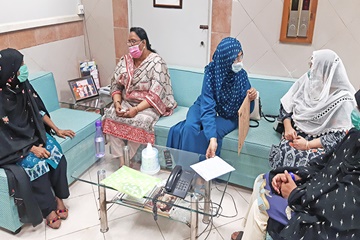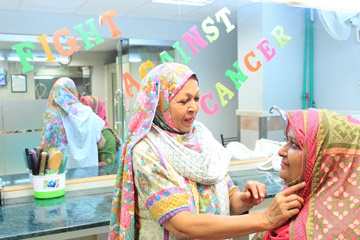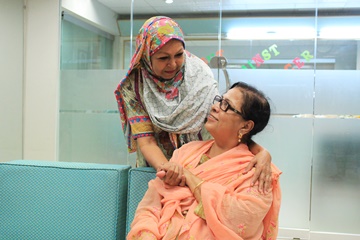 Contact Information
Please call us on 021-34412036.
Monday to Saturday: 9 am to 5 pm.
Availability of Beautician: Monday, Wednesday & Saturday, 12 pm to 5 pm.