Cornea is the front transparent part of the eye, just like a windscreen of the car. Cornea helps to focus light and images on part of the eye that helps to see. Any disease of the Cornea will affect the vision drastically. Cornea infections are pretty common and difficult to treat. They often leave an opaque scar on the cornea. Scar can also be left secondary to trauma. There are number of other diseases which leave Cornea distorted or hazy. Corneal transplant from a donor eye can be performed in such patients to help restore their vision. Cornea can be transplanted in full thickness or in layers (more advanced surgery).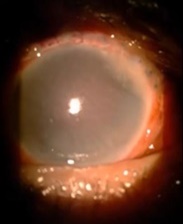 A. Diseased Cornea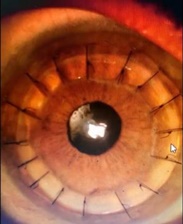 B. Recently done Corneal Transplant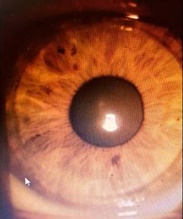 C. Corneal Transplant after Removal of Sutures
Services
We provide comprehensive Cornea treatments as well as complicated surgeries including Corneal Transplants. Our consultants who have been specifically trained, locally and from abroad, are dedicatedly providing services on cornea and corneal transplantation.
This service is advanced and not all hospitals have fully trained surgeons for this purpose. We provide corneal transplant in layers (Lamellar Keratoplasty), which is not done in most units, in the city.
We are registered with HOTA (Human Organ Transplant Authority) and we obtain cornea from USA and Sri Lankan eye banks. In clinics, a detailed discussion explaining pros & cons and outcome of such surgery is provided.
Regular teaching in clinics, regarding corneal diseases, and training in corneal surgery, including corneal repair, Amniotic membrane graft and corneal transplant is the part of our practice.
Frequently Asked Questions
Corneal transplant is a surgical procedure where diseased or opaque cornea is replaced by a clear cornea. Also, if the eye is perforated and is severely infected that it might perforate.
There are a lot of eye diseases affecting the cornea which can damage it. It can be a trauma, infection, some hereditary dystrophies, keratoconus and damages secondary to previous operations.
Donor cornea comes from an eye donor who signs a donor card in his / her life but the cornea is removed immediately after his / her death. At present, most corneas come from eye banks in Sri Lanka and USA.
Mostly the procedure is done under General Anesthesia as a day care procedure but, sometimes the patient is kept in hospital for one day. You need to be off work for at least 3 to 4 weeks and rest a lot. Computer and on line work can be started earlier.
You need a complete or partial rest for one to two weeks. Avoid heavy work and bending etc. There will be frequent use of eye drops initially which is reduced gradually in frequency and amount. Avoid prolonged screen work initially and pray without bending. Sleep with a shield on and do not lie down on the operated side.
Corneal transplant is the most successful organ transplant done worldwide. But sometimes we get raised pressure in the eye or infection in the graft. Sometimes, body try to react and reject the graft. Most of the time we can control this with drops and medicines. But, occasionally it does fail and is not successful. In such cases, we can do the transplant again and mostly it works well. Remember, if you need a corneal transplant then that is the only treatment which will cure your condition and there is no alternate to it so consider it after understanding all the pros and cons.